ATTENTION VALUED CUBA PHARMACY CUSTOMERS!
TAKE IT TO THE BOX (Pill Drop Box)
Safe way to dispose of Expired & unwanted medications
We have recently upgraded our phone and computer systems!
Some important changes to be aware of:
You will be required to provide a photo ID in order to pick up any controlled substance prescription.
You can request refills through our new RefillQuick app from Liberty Software!

To Download:

Search the App or Google Play stores for "RefillQuick."
Download the app.
Enter our pharmacy phone number: (585) 968-3111
Submit your refills with your name and RX#'s.

The RX number can be found in the upper left-hand corner of your prescription label. The app will only require the first 6 digits.
You can leave us a "note" with any special instructions or requests.
Please allow a minimum of one business day to pick up your prescription(s) in case we need to send a refill request to your provider or order your medication(s).
You can call to check on the status of your prescription(s) at any time by calling the store and selecting option #2.
You can sign up to receive real-time text alerts about your prescriptions!

The next time you stop in please let one of our staff members know if you would like to sign up for this service!
Your patience while we navigate these renovations is greatly appreciated!
OUR ONLY GOAL IS TO BETTER SERVE YOU!
Curbside service is available! Please call ahead to arrange for a pickup.


PHARMACY HOURS & LOCATION:
Monday
Tuesday
Wednesday
Thursday
Friday
Saturday
Sunday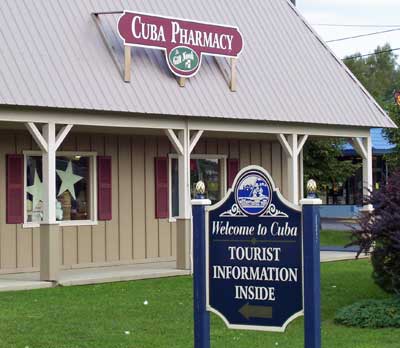 2 Center St.
Cuba, NY 14727
Phone: 585-968-3111
Fax: 585-968-7998