NEW HOURS
Mon 9 am - 5:30 pm
Tues 9 am - 5:30 pm
Wed 9 am - 5:30 pm
Thurs 9 am - 5:30 pm
Fri 9 am - 5:00 pm
Sat 9 am - 3 pm
Sun CLOSED
Curbside is available, call ahead to arrange pickup.
We now have a Pill Drop Box at our location.
TIRED OF MAIL ORDER? ASK FOR A PRICE ON YOUR 90 DAY GENERIC DRUGS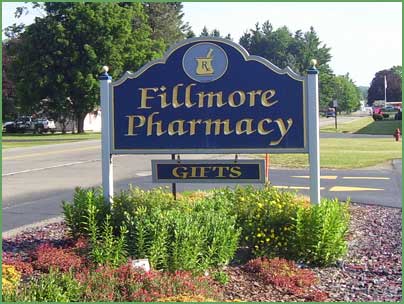 10560 Rte. 19
Fillmore,NY 14735
Phone:585-567-2228
Fax: 585-567-8227
Email Ashley
The Fillmore Pharmacy is located on Rte. 19 just south of Fillmore. We are a locally owned Health Mart Pharmacy. We are a short drive from Letchworth State Park, Rushford Lake, and Houghton College.
We are a full service pharmacy that accepts most major insurance plans. We offer a private consultation area and free blood pressure monitoring. We offer a full line of OTC medicines, Nature's Truth Vitamins, and many DME items to help keep you and your family healthy and happy.
We have a full gift shop "The Gift Garden" located within the store, with many ideas to select from for your gift buying needs.