STARTING MONDAY JUNE 22, 2020
TEMPORARY HOURS DUE TO COVID - 19
Mon 9 am - 5 pm
Tues 9 am - 5 pm
Wed 9 am - 5 pm
Thurs 9 am - 5 pm
Fri 9 am - 5 pm
Sat 9 am - 1 pm
Sun CLOSED
Curbside is available, call ahead to arrange pickup.
Photo Kisok will be unavailable.
CUBA PHARMACY

TIRED OF MAIL ORDER? ASK FOR A PRICE ON YOUR 90 DAY GENERIC DRUGS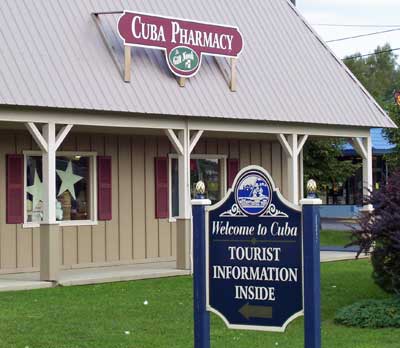 2 Center St.
Cuba, NY 14727
Phone: 585-968-3111
Fax: 585-968-7998

HOURS
Monday thru Friday 9 am-5 pm
Saturday 9 am-1 pm
Sunday CLOSED
The Cuba Pharmacy is located on Rte 305 just off of I-86. We are minutes from beautiful Cuba Lake.
We are a locally owned and operated Health Mart Pharmacy.
We are a full service pharmacy that accepts most major insurance plans. We have a private consultation area and free blood pressure monitoring. We offer a full line of Brand name and Health Mart OTC medicines.We also have Nature's Bounty Vitamins and many DME items to help you and your family with your medical needs. Watch for our monthly coupon book that offers many great seasonal specials.
We have a NEW Kodak Kiosk for printing your digital photos. You can also make a CD, enlargements or bring in your prints and make extra copies.
We have a full gift shop"The Gift Nook" located within the store for all your gift giving needs.